When I first reported about Friskies Dental Diet being discontinued by Purina I had found a comparable product to replace it, which was Hill's Science Diet Oral Care.  Even though my cat likes it, he doesn't love it as much as he loved Dental Diet. When I mean LOVED I mean loved where he would beg for it and push the container out into the middle of the kitchen floor.  With the Oral Care he doesn't get excited about it and takes his time to eat it.
Now there is another choice.  Royal Canin has come out with a new product Oral Sensitive 30.  I did try to get a sample from Royal Canin so that Culann can try it without having to buy a full bag.  Here was their response:
Thank you for contacting Royal Canin!  We appreciate your interest in our products.  We do not carry samples of our products.  We recommend a dietary transition for about 10 days when trying a new product.  A sample sized bag would not give you enough product to do a transition.
All of our products carry a 100 % money back guarantee.  You can purchase the product, try it, and if you find that it's not the appropriate product for your pet, return it to the retailer for a full refund.  If you have trouble returning the product to the store, please mail us the original receipt and UPC from the package.  Our mailing address is:
Royal Canin USA
Attn: Technical Services
500 Fountain Lakes Blvd. Ste 100
St. Charles, MO 63301
I would be happy to mail you an introductory coupon to try our retail products. Please let me know your mailing address. Thank you again for your interest in our products!
Warm regards,
Nicole
So I sent my mailing address and got the coupons and received them in a timely manner.  With their 100% guarantee I decided we'll try it and I have now bought a bag and gave some to Culann to try.  He loves it.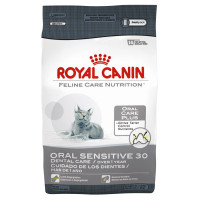 The Royal Canin Oral Sensitive 30 is a slightly different recipe than the Dental Diet and the Oral Care but the kibble is the same size as the Dental Diet (yes, I saved a couple of pieces of the Dental Diet for future comparisons).  I think that is partially why Culann didn't love the Oral Care.  He's now begging for the Oral Sensitive unlike the Oral Care I had to encourage him to eat.
So if your cat doesn't love the Hill's Science Diet Oral Care, try Royal Canin Oral Sensitive 30.  This may be THE replacement for Friskies Dental Diet.