Culann has used a fountain instead of a drinking bowl since he was little, actually we have had two Drinkwell fountains.  Found them to be noisy and extremely hard to clean.  For Christmas 2011 I decided to search for a new fountain since the current one kept getting moldy.  I researched and found on Petco.com a fountain that looked interesting, more like a bubbler than a fountain.  It was the "Catit Design Fresh & Clear Cat Drinking Fountain".
I ordered it and gave it to Culann for Christmas.  I wasn't sure if he would like it since it's not really a fountain. He likes to clean his paws and face in the flowing water. Not sure how that came about, but that's my boy.  He took to the new fountain right away.  He dips his paws in the water to wash them. The biggest thing I love about it is that it is so easy to clean.  There are only 5 parts, the bucket, the piece that holds the filter, the filter, the piece where the water comes up, and the submersible pump.  No hard to get corners.  No need to use brushes, a wash cloth is all that you need.  Also the filter is reusable, just rinse off.  The only time to change it if there is too much debris is in the filter and you can't rinse it out.  Also since it's a bucket the water lasts for a week. No having to add water when you're hear the pump sucking up air.  Also it is quiet until the water gets low, however it's a bubbly water sound not the pump.
It is available at Petsmart for $34.99 and the replacement filters are $12.99 for a package of 3.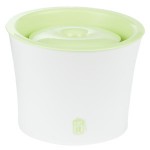 I'm telling you that I love it so much I bought a second one for his birthday last year for use in the bedroom.
So if you're searching for a fountain for your cat I and Culann  recommend the "Catit Design Fresh & Clear Cat Drinking Fountain".